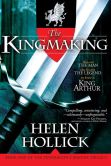 Kingmaking, the first novel in Helen Hollick's Pendragon's Banner Trilogy, is free in the Kindle store and from Barnes & Noble, courtesy of publisher Sourcebooks Landmark.
Book Description
Who was THE MAN
Who became THE LEGEND
We know as KING ARTHUR?

"You are the Pendragon, rightful Lord of Dumnonia and the Summer Land; Lord of less Britain. By all that is right, you ought be seated where Vortigern sits… You ought to be King."

Here lies the truth of the Lord of the Summer Land.

This is the tale of Arthur flesh and bone. Of the shaping of the man, both courageous and flawed, into the celebrated ruler who inspired armies, who captured Gwenhyfar's heart, and who emerged as the hero of the Dark Ages and the most enduring hero of all time.

This is the unexpected story of the making of a king — the legend who united all of Britain.
Get the free ebook from Barnes & Noble.
Free on Kindle; links on Today's Free Kindle Books.
Send to Kindle