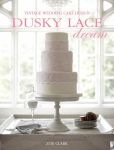 Dusky Lace Dream: Vintage Wedding Cake Design, by Zoe Clark, is free in the Kindle store and from Barnes & Noble, courtesy of publisher David & Charles.
Book Description
Dusky Lace Dream cake project is right on trend with classic Kate Middleton style brides wearing gorgeous lacy gowns on their wedding day. The colour scheme of this cake, with its romantic dusky pink hues and delicate ivory detailing is certainly classic. With its exquisite floral lace design, soft ribbon trim and the subtle hint of sparkle from the pearl white lustre, this really is the wedding cake of dreams. Project taken from Chic & Unique Vintage Cakes by Zoe Clark.
Get the free ebook from Barnes & Noble.
Free on Kindle; links on Today's Free Kindle Books.
Send to Kindle