Amazon's Android Appstore free app today is Stack 'N Puzzles – an Educational Puzzling Adventure for Kids.


Today's Kindle Daily Deal is Up to 80% on More Than 2,000 Kindle Books for Students. Everything is broken down into categories and there is a lot there that is of general interest and not just for students (such as Brain Rules, which is in the Business & Investing as well as the Medical category, or Bounce: Living the Resilient Life, which is in Social Sciences – both are marked down to $1.99), so plan to spend the afternoon looking thru the selections.
Today's Kindle Romance Daily Deal is Faerie ($0.99), by Delle Jacobs, with the companion audiobook at $4.99.


Book Description
Like her mother before her, Leonie of Bosewood carries Faerie blood in her veins, a secret she harbors to protect her own life. For although the people of eleventh-century England believe in magic, their ignorance and fear have made being different a very dangerous prospect. Caught between the human and Faerie worlds, yet belonging in neither, Leonie must guard her heart…no matter how strong the temptations.

As the king's emissary, Philippe le Peregrine has watched Leonie mature from gangly girl to alluring woman. With each encounter, his attraction grows, but he knows a match between them can never be. For Philippe hides his own secret, one that has condemned him to a life of lonely celibacy for fear of harming the woman he loves. But when powerful forces prompt them to unite against a sorcerer intent on conquering the world, Leonie and Philippe realize that only together are they strong enough to combat the evil threatening to engulf them.
Today's Kindle SciFi/Fantasy Daily Deal is Empire ($1.99), the sixth novel in the Star Force military science fiction series by B. V. Larson.


Book Description
Kyle Riggs has been away from Earth for a long time…what's happening back home?

In EMPIRE, the sixth book of the Star Force Series, the story moves in a new direction. Earth falls quiet, and the few reports coming out of the homeworld are increasingly strange. Isolated in the Eden system, Riggs realizes his enemies are forming an alliance against him. Crushed between two monstrous fleets, the last defenders of Star Force must forge their own alliance with the biotic aliens. But which alien race can Riggs truly trust?
Bleak Expectations ($1.59 / £0.99 UK), by Mark Evans, is the Kindle Deal of the day for those in the UK (the US edition is $8.79).


Book Description
A fantastically funny and inventive novel from the hit Radio 4 comedy series.

You think you know the entire story of Bleak Expectations but look! Now it's also a big, fat, juicy book. Like the radio series, but with added jokes, extra bits of story, additional dimensions to characters and masses more paper. Unless you're reading it as an e-book in which case… masses more digital information bits.

Bleak Expectations recounts the remarkable adventures of young Pip Bin as he tries to repair his destroyed family and distinctly damaged life, aided by his best friend Harry Biscuit and definitely not aided by his cruel and ironically named guardian Mr Gently Benevolent and his accomplices, the fearsome Hardthrasher siblings.

Weep! As Pip is sent to Britain's nastiest boarding school, St Bastard's.

Gasp! As the true extent of his despicable guardian's plan becomes clear.

Worry! As our hero is committed to the Workhouse, where he meets the hideous poverty-punishments of the treadmill, the grindstone and the painwheel.

Sigh! As Pip finds love with London's most eligible frail beauty, Miss Flora Dies-Early.

Find a tenterhook and sit on it!

Grim circumstances, mistaken identities, unlikely inheritances, nightmarish court cases, ridiculous names, convenient coincidences to resolve plot problems, over-sentimental death scenes and lots and lots of adjectives: Bleak Expectations is the novel Charles Dickens might have written after drinking far too much gin.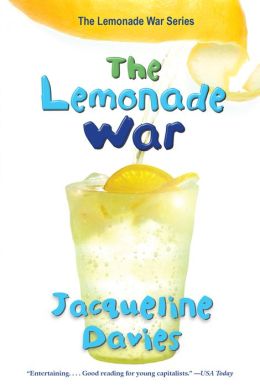 The Lemonade War ($4.49 Kindle, $1.99 B&N), the first title in the children's series by Jacqueline Davies, is the Nook Daily Find.


Book Description
For a full hour, he poured lemonade. The world is a thirsty place, he thought as he nearly emptied his fourth pitcher of the day. And I am the Lemonade King.

Fourth grader Evan Treski is people-smart. He's good at talking with people, even grownups. His younger sister, Jessie, on the other hand, is math-smart, but not especially good with people. So when the siblings' lemonade-stand war begins, there really is no telling who will win—or even if their fight will ever end. Brimming with savvy marketing tips for making money at any business, definitions of business terms, charts, diagrams, and even math problems, this fresh, funny, emotionally charged novel subtly explores how arguments can escalate beyond anyone's intent. This book features a teaser chapter from book two of the Lemonade War series, The Lemonade Crime.

Grade Level: 3 and up
Today's Kindle Teen Daily Deal is Torn ($1.99), by Stephanie Guerra.


Book Description
Stella Chavez is your classic good girl: straight As, clean-cut boyfriends, and soccer trophies. You'd never guess that Stella's dad was a drug addict who walked out when she was a kid. Or that inside, Stella wishes for something more. New girl Ruby Caroline seems like Stella's polar opposite: cursing, smoking, and teetering in sky-high heels. But with Ruby, Stella gets a taste of another world a world in which parents act like roommates, college men are way more interesting than high school boys, and there is nothing that shouldn't be tried once. It's not long before Stella finds herself torn: between the best friend she's ever had and the friends she's known forever, between her family and her own independence, between who she was and who she wants to be. But Ruby has a darker side, a side she doesn't show anyone not even Stella. As Stella watches her friend slowly unravel, she will have to search deep inside herself for the strength to be a true friend, even if it means committing the ultimate betrayal.