Several of these end this month, others should be good for a few days. For the night owls out there, grab these quick.
Ruth Ann Nordin has two new freebies up on Smashwords:
Into Her Own
and
A Matter of Time
, the first and second books in her
Queens of Raz
series, written under her pen name Amanda Winters. You can also pick them on on Kindle for 99 cents each,
HERE
.
Book Description
Into Her Own
his is a light-hearted fantasy about a regular 21-year-old woman from Earth who learns that she is going to be the Queen on a distant planet called Raz. Hathor is sent to bring her to her new home, but first she must survive attacks from the Palers who seek to kill her before she can assume the crown. She must also choose who will be her king: William or Hathor.

A Matter of Time
Queen Ann from the planet Raz is thrown back in time to when she was a regular 17 year old on Earth. A new leader on Earth emerges, but she has no idea he is targeting her for death before she can become Queen.

The High Wizard Of Silvinesh
(
$2.99
Kindle), by Rodney Scully, is free on smashwords using coupon code SWS100,
HERE
.
Book Description
It is a time of darkness . . . only days remain before a deadly war is set to begin, between the minions of the Ever-Night Realm and the White Wizards of Silvinesh. An ancient message is found that gives the elvin heroes a glimmer of hope, and with it, they take a chance, and seek out a lost power, hidden, somewhere within Crystal Mountains. After narrowly escaping with their lives, the heroes return to Thelentia on the eve of battle, to aid their human allies against the deadly dark elvin threat. Journey with the brave group of friends and family, as they unravel the mysteries of the past, and find a way to save the world they love.
Rogue Wave
(
$1.39
), by Maureen A. Miller, is free on smashwords using coupon code SWS50,
HERE
.
Book Description
U.S. Geological Survey expert, Nick McCord can not account for the destructive waves assaulting the Windward coast of Oahu. The only viable culprit is the new housing development, Manale Palms and its attractive contractor, Briana Holt.

Try as he might to find blame with Briana and her site, the truth remains a mystery as yet another threatening wave attacks the coast. Now allies, Nick and Briana narrow in on the source of these anomalies and find themselves in a struggle to save the island coast and their very lives.
Risen
(
$4.95
), by Jan Strnad, is $1.24 on smashwords using coupon code SWS75,
HERE
. You can also pick up his
The Risen Short Stories
there for free.
Book Description
Welcome to Anderson. Look around. It won't take you long.

The movie theater on Main Street is open evenings and weekends. Old man Tippert won't play any of that R-rated trash, so feel free to bring the kids. Ma's Diner is the only restaurant in town, but it's pretty good if you stay out of reach of the meat loaf. Sheriff's office is down the street, not that you'll ever need it. Yeah, it's quiet here and that's how we like it. Except....

Madge Duffy sliced her huband's throat last week. Thought she killed him, but then John walked out of the morgue none the worse for wear. There's a bullet hole in Deputy Haws' shirt that he can't explain.

And that gang of kids that hangs around the reservoir...not one of them can look you in the eye without breaking into a cold sweat. They're keeping a secret, and it's got them all on edge. Something's going on in this town of ours, something that makes your skin crawl and your teeth grind in the night. I don't know what it is, but I know this:

It scares me.
The Quest for Nobility
(
$2.99
Kindle), by Debra L Martin & David W Small, the first in the The Rule of Otharia series, is free on smashwords using coupon code SWS100,
HERE
. You can also pick up
The Crystal Facade
, the second in the series, at half pric using coupon code SWS50, as well as a couple of free post-apocalyptic short stories,
The Right Path
and
Path to War
.
Book Description
Darius and Dyla Telkur, royal twins, from one of the most powerful noble families on Otharia...

Add in an evil mastermind bent on eliminating the House of Telkur...

And a telekinetic assassin named Nils...how fast can you run?

The idyllic life of royal teenagers, Darius and Dyla Telkur, from the planet Otharia takes a horrifying turn when their parents are murdered. With their cousin appointed as Regent until Darius comes of age, it doesn't take the twins long to figure out that he's bent on stealing their throne one way or another. To escape their cousin's wrath, they flee to the only safe place they know where no one will find them – the forbidden and quarantined planet Earth.

Safe on Earth for the moment, the only way for them to return home is to find an ancient 10K traveling crystal left behind by their Otharian ancestors who visited Earth 1500 years ago. Enlisting the help of a London university archeologist, they begin their search for the crystal from clues buried deep within the Arthurian lore of Merlin and Lady of the Lake. What they find instead is evidence of a secret trade pact between Otharia and Earth that was established centuries ago. Before Darius and Dyla can understand what it means, they're in jeopardy again; this time pursued by those on Earth who want the secret to remain hidden. Who is behind the trade pact and what is being traded are the questions the twins need to figure out while trying to stay one step ahead of the Earth assassins. Everything is connected. Otharia and Earth are entwined in secrets and bound by the blood of the other.

Time is running out for the royal pair. They must find the traveling crystal and open a portal home soon before their cousin is crowned the next Duke of Telkur and their lives are forfeited.
Scryer's Gulch: Magic in the Wild, Wild West - Episodes 1-10
(
$0.99
Kindle), by MeiLin Miranda, is free on smashwords,
HERE
. This title is pretty short, about novella length, and appears to be a series of short stories.
Book Description
Treasury Agent Annabelle Duniway is on the trail of a brilliant, twisted spellcaster in a 19th century mining town full of demons, ghosts and werecritters. This ebook collects the first ten episodes of this weekly fantasy western series.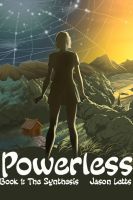 Powerless: The Synthesis
(
$0.99
Kindle &
Smashwords
), by Jason Letts, is aimed at young adults. This is the first of a planned five book series, four of which are complete but the next three are not yet published (but should be soon).
Book Description
Mira Ipswich couldn't have ever known the startling difference that separates her from the rest of humanity. But when she discovers a strange anomaly in the midst of her seclusion, her parents are forced to reveal she exists in a world where everyone is imbued with a wondrous natural gift. Everyone except herself that is. Accompany Mira as her attempts to fit in among peers and understand her inconceivable condition embroil her with the dangerous forces threatening her homeland. Protected by nothing more than her imagination and ingenuity, you'll never find a superhero more like you.

The first book in the Powerless series is the tale of Mira's turbulent and perilous entry into the world around her. And once she's a part of it, nothing will ever be the same again.

Winner of the Webb Weaver 2010 Writer's Competition.
The Last Legends of Earth
(
$9.99
Kindle), by AA Attanasio, isn't at Smashwords, but on the publisher's web site,
HERE
. You'll need to scroll down on the bottom of the page to find the title, then click on the link to get it free, just under the cover picture. On the next page, enter an email address and coupon code 9991300. There isn't a Kindle format, but the epub and PDF are DRM-free, so can be easily converted.
Book Description
The Last Legends of Earth is a magnificent, visionary epic of the far future by one of the 21st century's most exciting creators of imaginative fiction. ****
Seven billion years from now, long after the Sun has died and human life itself has become extinct, alien beings reincarnate humanity from our fossilized DNA drifting as debris in the void of deep space. We are reborn to serve as bait in a battle to the death between the Rimstalker, humankind's reanimator, and the zōtl, horrific creatures who feed vampire-like on the suffering of intelligent lifeforms. ****
The reborn children of Earth are told: "You owe no debt to the being that roused you to this second life. Neither must you expect it to guide you or benefit you in any way." Yet humans choose sides, as humans will, participating in the titanic struggle between Rimstalker and zōtl in ways strange and momentous. ****
Set in the artificial planetary system of Chalco-Doror, which is no more and no less than a vast cosmic machine, The Last Legends of Earth is a love story, a gripping saga of struggle against alien control, and an examination of the machinery of creation and destruction. Above all, it is world-building of the highest and grandest order, on a scale rarely seen in science fiction since the great works of Olaf Stapledon.